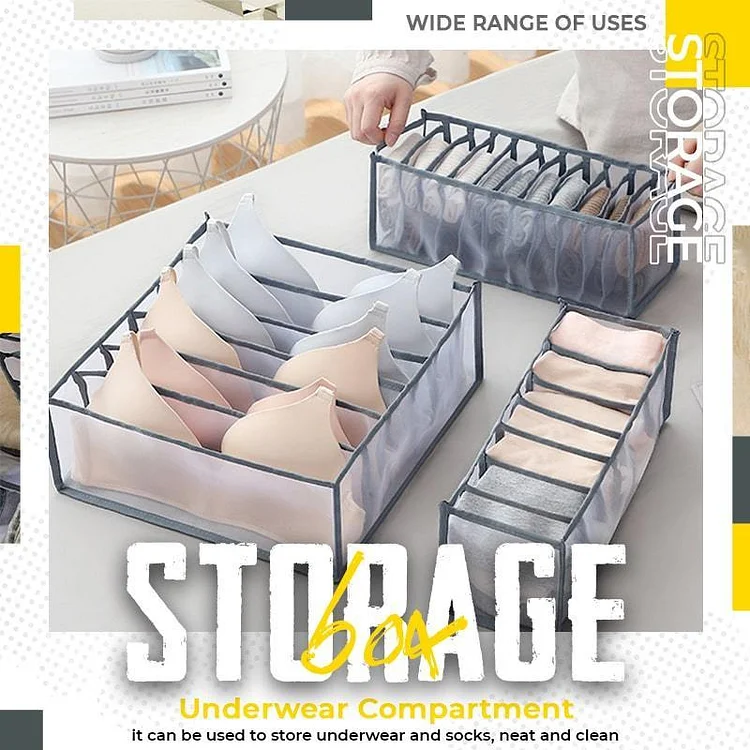 Still worrying about your underwear nowhere to be placed?
Buying our underwear storage box can store items quickly and neatly, which can make your items easy to find! Say goodbye to messy!
Product information:
High-quality fabric
The closet storage box set is made of high-quality fabrics, with fine mesh, fine workmanship, breathable, comfortable, and moisture-proof, with soft seams and durability.
Strong practicability
The kit has 3 types of closet storage boxes, which are very suitable for all daily underwear, and can be washed without peculiar smell. Can be folded to save space when not in use.
Upgrade kit
The internal grid has been changed and widened, the capacity has been improved, the three-dimensional structure of the kit is straight, can be used independently without deformation.
Wide range of uses
This kit has a storage compartment and is ideal for storing underwear, socks, scarves, bras, panties, ties, or other items. There are multiple compartments and types of drawers to sort and organize your belongings and make your living space organized.
Usage Scenarios
Suitable for storage in drawers, dressing tables, bed bottoms, cabinets, etc.
Specification:
Name: Closet storage box set
Material: nylon material
Standard: 6 grids, 7 grids, 11 grids
Dimensions: as shown
capacity:
6 compartments for bra storage: 6 fasteners can be stored, cups can be placed every day
7 rack underwear storage: 14 weeks of underwear can be stored, increased inside the rack to increase capacity
11 rack sock storage: 22 pairs of socks can be stored, and winter socks can also be placed
Size:
Bra box: 12.5*12.5*4.7 inch
Underpants box: 4.7*12.5*4.7 inch
Sock box:

4.7*12.5*4.7 inch
Uses: underwear, socks storage

packing list:
Closet storage manager set

Note:
Product dimensions are measured manually, so there are certain tolerances, but this will not affect the normal use of the product.